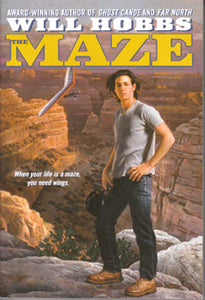 Just fourteen, Rick Walker is alone, on the run, and desperate. Stowing away in the back of a truck, he suddenly finds himself at a dead end, out in the middle of nowhere. The Maze.
In this surreal landscape of stark redrock spires and deep sandstone canyons, Rick stumbles into the remote camp of Lon Peregrino, a bird biologist who is releasing fledgling California condors back into the wild. Intrigued by the endangered condors and the strange bearded man dedicated to saving them, Rick decides to stay on.
When two men with a vicious dog drive up in a battered old Humvee, Rick discovers that Lon and his birds are in grave danger. In the story's heart-stopping climax, Rick risks his own life flying Lon's hang-glider in a dramatic attempt to save his friend.