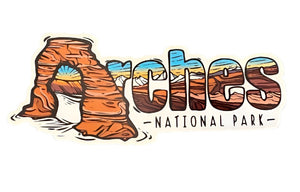 Rep your favorite park with this fun word art sticker! Includes: Delicate Arch, the LaSal Mountains, surrounding landscape and skyscape in Arches National Park.
Looks great on water bottles, coolers, computers, bumpers or anything you want.
Made by Wild Tribute, which donates 4% of proceeds to support America's most wild and historic places.