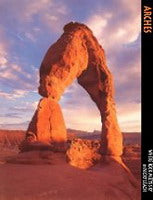 One of the large format books by Sierra Press featuring National Parks. Arches: Where Rock Meets Sky is a beautiful coffee table style book at a bargain price. The large format lends itself to the wonderful photography featured in this edition.

Aside from the vast amount of photographs, this book is filled with valuable information as well. Find out about geology of the Arches region, how arches are formed, and the human history of the park.

There are chapters on what to do when visiting the park that include cryptobiotic soil crusts and pothole communities. There are even field guides to plants and animals. Whether you are planning a visit to Arches National Park, or looking for the perfect memento from your trip, this book is for you.

64pp.