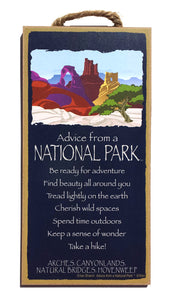 Be reminded every day about this timely advice and heart-ticking wisdom!
Advice from a National Park
Be ready for adventure
Find beauty all around you
Tread lightly on the earth
Cherish wild spaces
Spend time outdoors
Keep a sense of wonder
Take a hike!
These rustic wood signs are made of a pressed wood with an overlay of the original "Advice" in full color! These will surely be a hit in your entryway, kitchen, bathroom or any room of the house.
Size is 5" x 10" and hangs by attached jute string.