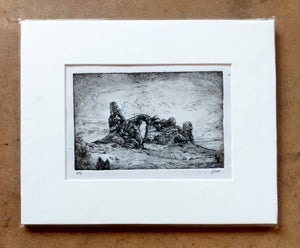 Meet Jess Hough, the 2023 Community Artist in the Parks
Jess Hough is a local carpenter/handyman and artist based in Moab. Primarily an illustrator, she has recently been working on developing DIY methods for at-home printmaking using reclaimed/recycled materials. Jess enjoys working on landscapes and environments inspired by red rock canyons and all the amazing natural features of Utah's deserts.
During her tenure as 2023 Community Artist in Parks, visitors could see Jess perform any step of the printmaking process: sketching a scene, finalizing designs, making plates, and even printing from her plates using her homemade printing press.